Boker Beer Barrel Wood Handle 3 Blade Stockman 117474BBL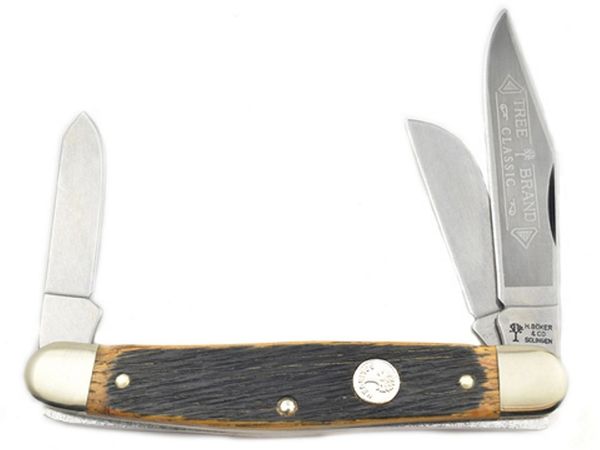 Boker Beer Barrel Wood Handle 3 Blade Stockman 117474BBL
Boker Beer Barrel Wood Handle 
3 Blade Stockman 117474BBL
Boker USA Warranty!
3 High Carbon 440C Steel Blades. Sells for over $113 on the Boker web site. Guaranteed authentic from an authorized Boker dealer. Classic reverse etched blade!




The oldest evidence that beer was brewed in Germany comes from around 800 B.C. By the second century, beer was being traded commercially in Germany. In 1516, Duke Wilhelm IV of Bavaria enacted the Reinheitsgebot, or the "Purity Law," which regulated the brewing of beer in Germany. The town of Solingen, known as the cutlery center of Germany, also enacted strict laws for the manufacture of knives and shears. While Boker is not quite as "aged" as the brewing industry, the same quality standards apply. To commemorate this common interest, Boker is introducing a series of traditional pocketknives with handles made from genuine German ale/beer barrels, handcrafted in the Solingen Germany factory. Each pattern will include solid nickel silver bolsters, brass liners, carbon steel blades and the resurrected old Tree Brand blade etching. A great item for the collector or everyday user.

Beer Barrel handle

Three principles are combined in BOKER knives: A tradition of know-how in the forging and processing of high-grade steel into strong and robust blades. Extreme longevity is the objective. The second criterion is the precise processing of the individual parts. Exact and solid - designed for the highest serviceability. And of course - outstanding workmanship reflected in the shaping and beauty of the knives, supported by high-grade materials used in the knife body.
Authorized Dealer! Absolutely Guaranteed Genuine Boker!  Boker USA Warranty! Beware of counterfeits!
Reviews