Boker Plus 4 Blade Congress Pocket Knife 01BO214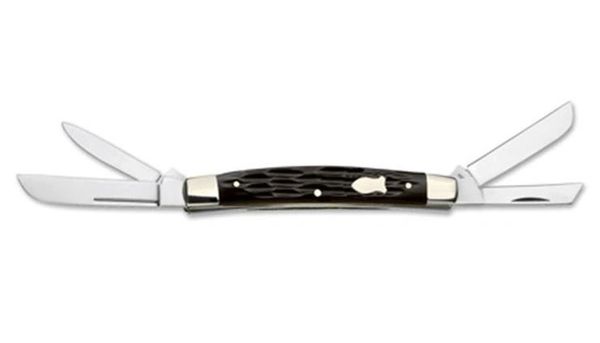 Boker Plus 4 Blade Congress Pocket Knife 01BO214
Boker Plus Black Jigged Handle 
4 Blade Congress 01BO214
Boker USA Warranty!
Boker Plus Congress: With the Vintage series, Boker Plus offers the same high quality materials, well known precision in manufacturing, and the sharp look and fine details of the more modern Boker Plus knives. Featuring fine polished  brass bolsters and black synthetic handle scales. High performance 440C stainless steel. 
Overall length: 5 3/4"

Blade length: 2 1/8 - 1 7/8"

Weight: 1.9 oz.

Blade material: 440C

Handle material: Synthetic
Three principles are combined in BOKER knives: A tradition of know-how in the forging and processing of high-grade steel into strong and robust blades. Extreme longevity is the objective. The second criterion is the precise processing of the individual parts. Exact and solid - designed for the highest serviceability. And of course - outstanding workmanship reflected in the shaping and beauty of the knives, supported by high-grade materials used in the knife body.
Absolutely Guaranteed Genuine Boker! Beware of counterfeits!
Reviews