Lekholm DM48 Chromatic Harmonica Midi Controller - NEW VERSION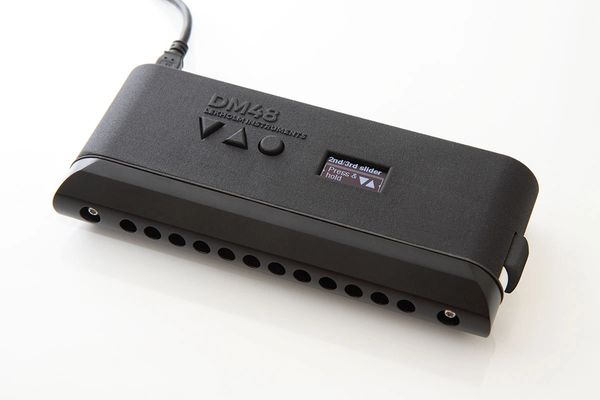 Lekholm DM48 Chromatic Harmonica Midi Controller - NEW VERSION
Lekholm DM48
In Stock Again! Ships from the USA!

We Were The First Authorized USA Dealer!
Newly upgraded version. One Left!
12 hole, 48 note, digital chromatic harmonica. Expressive control over any electronic instrument. (This is a midi controller and requires an iPad or iPhone or a midi bank or midi software to operate. NOT INCLUDED)

M48 Digital Chromatic Harmonica! Twelve independent pressure sensors puts harmonica players in control of a world of electronic sounds - silently at night or loud on stage without feedback. DM48 is a pure controller instrument without onboard synthesis.
SPECIFICATIONS
12 precision pressure sensors · USB MIDI · Fully customizable tunings · Instant key changes · Stores multiple settings & tunings ·  Export & import tunings · Flexible response parameters · Single or multichannel output · Compact size · OLED display · Anodized aluminum mouthpiece · Adjustable breathing resistance
INFORMATION/FAQ
Blows and draws
The pressure sensors can sense both positive and negative pressure, enabling both blows and draws.
Bending
Only one parameter is measured - air pressure. Traditional bending is therefore not possible. A pressure-controlled bending feature has been implemented on the DM48 - bends are achieved by strong blows/draws. Bending threshold and sensitivity are adjustable.
Feel/response
Compared to an acoustic harmonica, the DM48 is less expressive in many ways, as mouth geometry, hands, and classical bending/overblows cannot be used to modulate the sound. MIDI expression messages are however transmitted, such that sound intensity can be modulated after triggering a note. This can be heard in the demo videos.
Slider
Rather than mechanically redirecting the airflow, the slider is electronic. It has a shorter stroke length and thus a different feel compared to a regular chromatic. This may take some time getting used to, but has the advantage of being faster.
Peripherals
The DM48 is a MIDI controller without sound synthesis. Similar to a MIDI controller keyboard, a synthesizer (software or hardware) is needed to generate sounds. The DM48 can be connected directly to a computer via a USB. An Apple Lightning to USB Camera Adapter allows connection to an iPad/iPhone. A MIDI USB host adapter is needed to connect the DM48 to a standard 5-pin MIDI connector. A third-party mini pitch controller and diatonic-style mouthpiece is available from Brendan Power - note that we do not sell these independently developed accessories.
Suitable synths
Like other electronic wind instruments, the DM48 will not be exciting to play with regular keyboard-type patches. Good results can be achieved, for example, with physical modeling synths that emulate wind instruments, either software or hardware. The acclaimed Yamaha VL70-m sounds great and works really well with the DM48, but one should keep in mind that the VL70-m is a monophonic synth. While expensive, the SWAM virtual wind instruments from Audio Modeling are outstanding in terms of realism and a joy to play with the DM48. Wind instruments in GarageBand, in particular on MacOS, are a decent budget option. The Acoustic Electro Waves wind synthesizer plugin for Reason is great together with the DM48, and works on both Mac and Windows machines. Together with Reason in demo mode (song loading disabled, but otherwise full functionality at no cost) it is a bargain at $13.
Harmonica sounds
Decent realistic harmonica sounds can be achieved with physical modeling synths as well as sample-based software instruments. However, the DM48 cannot in any way replace an acoustic harmonica - playing a regular harmonica involves more than note triggering and intensity modulation, and a lot of the expression is therefore lost.
Firmware
The firmware can be updated by the user via USB, and the latest version (v1.40, July 2018) can be downloaded. It may be noted that dynamic velocity is currently not supported (a static but adjustable velocity value is transmitted with all "note on" MIDI messages). Controller (MIDI CC) messages for breath pressure are however sent continuously at high rate and resolution.
Manual
The DM48 packs a wide range of features and adjustable parameters, all detailed in the online DM48 User Manual.
Note that the DM48 is an advanced MIDI controller, and prior experience with synthesizers and MIDI is recommended. Some suggestions on downstream setups are given in the manual, but we cannot provide support for products beyond the DM48 itself. Potential buyers are advised to carefully read the information on this page and in the manual.
The instruments are assembled by hand in Lekholm's small workshop. The casing is produced using high-quality SLS 3D printing, which gives it a slightly rough surface that is more difficult to clean compared to the injection molded plastics typically used for mass production. The DM48 is available only in black with a white bottom chassis (earlier units where white). The mouthpiece is manufactured in aluminum by precision CNC machining, and has a smooth semi-matte anodized surface.
Reviews