Suzuki Fabulous 64 F-64C Chromatic Harmonica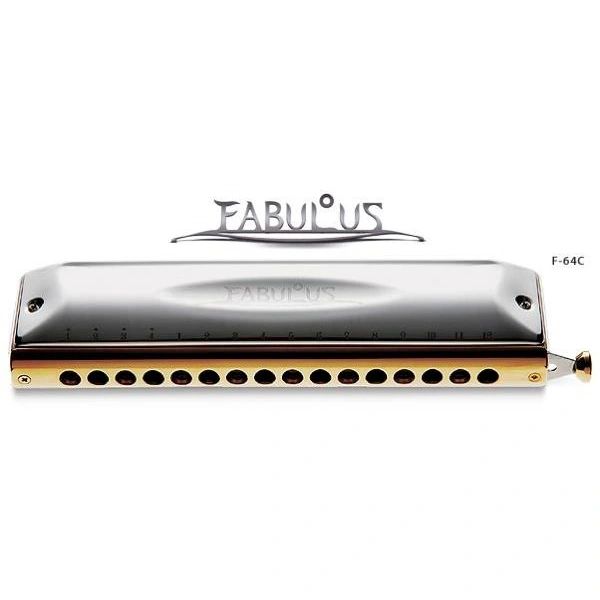 Suzuki Fabulous 64 F-64C Chromatic Harmonica
Suzuki Fabulous 64 Chromatic Harmonica in C
16 holes - Authorized Dealer - Suzuki USA Warranty
This is a special order item and may take a week or two.
The brand-new Fabulous harmonica series from Suzuki represents the ultimate state of the art in harmonica design, while keeping the best aspects of tradition. The appearance and sound of the instruments is stunning, with use of the highest quality materials throughout.

In a quest for the pure beauty of timbre, Suzuki redesigned and tested every part through an exhaustive prototype process. The precision tolerances achieved in the Fabulous harmonicas are unmatched by any other production harmonica — and you can hear it in the way the reeds respond soulfully to even the lightest breath.
Superb airtightness and instant response of the reeds to every breath creates a feeling of euphoria for every player when they first try Suzuki's all new Fabulous Chromatic Harmonica. The rich timbre of the Fabulous is a result of 21st century design matched with respect for the best aspects of tradition, embodied in top quality components with Suzuki's high accuracy processes.
Comb: Each Solid Brass body takes a whole day to make using the high-precision spark-erosion process, ensuring absolute accuracy for perfect airtightness. The rigidity and solid mass of the brass improves reed response, (especially at the bass end) and the upper-octave chambers are specially contoured to give unbelievable response in the high range. Lastly, silver plating imparts a smooth luxury finish for great looks and a pure bell-like sound.
Phosphor Bronze Reeds: The Long-Life Phosphor-Bronze Reeds for the Fabulous were designed from scratch to suit the brass body's special qualities, giving the player optimum volume, tone and response. Suzuki meticulously studied the length and form of each single reed to maximize its performance and robustness.
Slide: A Cross-alignment Slide is used for the 16-hole model, as its larger holes improve airflow to make the bass range sound more efficiently. The inside of the Gold-Plated Mouthpiece (a critically important area for airtightness) is hand-finished on each Fabulous Chromatic. Gold plating gives a smooth feel to the lips and a beautiful, luxurious appearance. The precision-made slide is specially designed for smooth, quiet movement and incredible airtightness.
Reedplates: Extra Thick Reedplates are used in the Fabulous to match the superlative tonal qualities of the brass body. Thick reedplates increase stability and give enhanced response to each reed. The extra rigidity of the thick reedplates allows a perfectly flat finish that adheres firmly to the body, to ensure maximum airtightness. All this adds up to feather-light reed response and a luxuriant, rich tone.
Cover Plates: Silver-plated Coverplates finish off the elegant appearance of the Fabulous. But they are practical too, as silver-plating is well known to give optimum lubrication in the mouth, ensuring players lips don't stick while performing extended passages. Suzuki's all-new artistic design for the coverplates is also comfortable and secure to hold.

Specifications:

Range: 16 Holes, 64 Notes (c1 to d4) sliding chromatic

Slide Allignment: Cross

Mouthpiece: Gold Plated

Body/Coverplate: Brass with Silver Plating

Reed Plate: Brass


Reeds: Phosphor Bronze



An individual Serial Number is imprinted on the top of each harmonica body as proof of top quality and hand-finishing. It is imprinted only after several inspections and a final strict quality test.

The world famous professional chromatic harmonica soloist Koei Tanaka says: "I found true pianissimo and fortissimo for the first time in my life with the Fabulous. The Fabulous allows players an overwhelming music-expression ability. It is striking that this harmonica's sound is smooth, sexy, deep and sweet, so from the first sound it has a special mood! We have entered an era when the harmonica is no longer a disposable instrument! The more you play the Fabulous, the better it sounds; fabulously! I'm so happy to meet a lifelong harmonica companion. Fabulous! I love it!!"
Each harmonica is packed in its own deluxe soft lined case.
EEZYREEDER IS A FULLY AUTHORIZED SUZUKI USA DEALER. Buyers Beware! Only authorized USA dealers can offer you the Suzuki Warranty. If you buy from a foreign dealer Suzuki USA will not provide warranty service! Suzuki products being sold on ebay directly from Japan are not authorized sales and are grey-market items!

PLEASE NOTE: A HARMONICA CANNOT EVER BE RETURNED TO A DEALER ONCE IT HAS BEEN PLAYED! THIS IS FORBIDDEN BY HEALTH REGULATIONS AND ALSO MANUFACTURER'S POLICIES. If there is a manufacturing defect or problem with a new harmonica it can be returned to the USA service center of the manufacturer for free warranty work. I will be happy help you with this process.
EEZYREEDER IS A FULLY AUTHORIZED SUZUKI USA DEALER. Buyers Beware! Only authorized USA dealers can offer you the Suzuki Warranty. If you buy from a foreign dealer Suzuki USA will not provide warranty service!
Reviews