Boker Jigged Bone Large 3 Blade Stockman 110726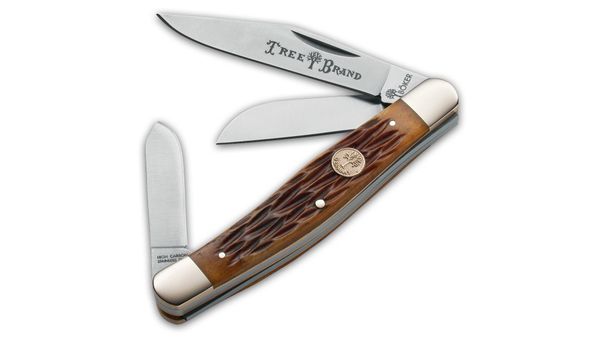 Boker Jigged Bone Large 3 Blade Stockman 110726
Boker Tree Brand 3 Blade Stockman
Model # 110726

Jigged Brown Bone Handle
This is a high quality knife new in collectible gift box with a lifetime warranty from Boker of Solingen, Germany, well known for its excellent knives.  "Tree Brand Series" with a jigged brown bone handle.  This new series of traditional pocket knives offers all the best components. Featuring nickel silver bolsters, brass linings and high carbon stainless steel blades. Comes with the Boker warranty.
Blades: 3 High Carbon Stainless steel blades. "Tree Brand" is embellished on the primary blade. Length closed: 4"  See this knife on other web sites selling for $42.36! 
Three principles are combined in BOKER knives: A tradition of know-how in the forging and processing of high-grade steel into strong and robust blades. Extreme longevity is the objective. The second criterion is the precise processing of the individual parts. Exact and solid - designed for the highest serviceability. And of course - outstanding workmanship reflected in the shaping and beauty of the knives, supported by high-grade materials used in the knife body.
You must be 18 years old to purchase this item. A purchase means you are agreeing that you are 18.
Reviews