Paddy Richter Easttop Blues Harmonica T008K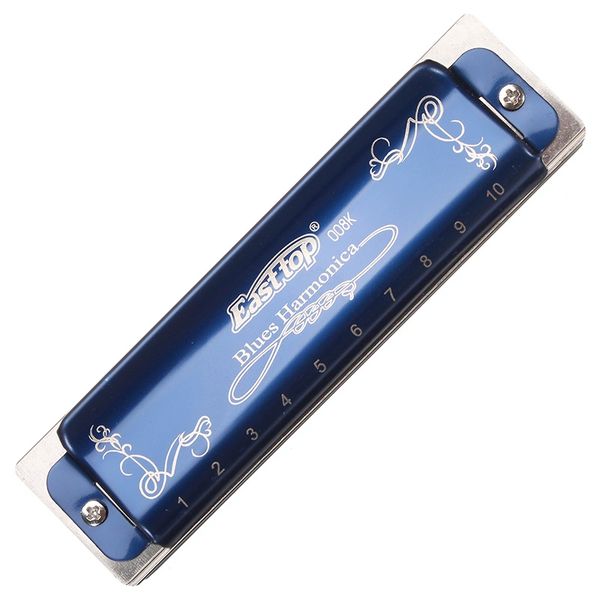 Paddy Richter Easttop Blues Harmonica T008K
Easttop Blues Harmonica
Model: T008K
PADDY RICHTER TUNED*
Hot New Harp from China with Phosphor Bronze Reeds! Plays great and comes in a great zippered pouch! Try one! (Some may have the card blue cover as shown, others have the black. It all depends what they send me! But they are the exact same model.)
*Paddy Richter tuning means the 3 blow is raised a whole tone to give an extra note (since it normally duplicates the 2 draw.) That makes certain folk, Irish and jazz tunes much easier. Normally you would need to deep bend the 3 draw to get that note. Now it is right there! Songs like Amazing Grace in second position or Cristo Redentor are much easier, as is playing in 4th position.  Try a Paddy Tuned harp out! 
I tried Easttop harps a few years ago at NAMM, the National Association of Music Merchants trade show and was surprised at the high quality. I recently tried out this model and was very impressed --shocked in fact at how good they are. I bought a limited number in the four main keys as a trial offer. I may buy more models and chromatics as well. If you have wanted to try this brand out here is your opportunity. I think you will be pleasantly surprised as I was.
Details:
Color: Dark Blue or Black
Weight: About 83g
Size: 100*28*18mm
Number of holes: 10 holes
Comb Material: Resin
Reed material: Phosphor Bronze
Base plate: Copper base plate
Features:
* 11 sealing screws, tightness even better, sound more full.
* Stainless steel screws, corrosion-resistant, waterproof and strong, not easy to rust.
* Phosphor bronze reed, corrosion resistance, aging is not easy to fall off and make the harmonica sound more beautiful mellow.
* Thick copper base plate, harmonica net weight is about 83g, base plate thickness is 1.2mm.

Reviews