Easttop Blues Harmonica T008K Set of 12 Keys Plus Case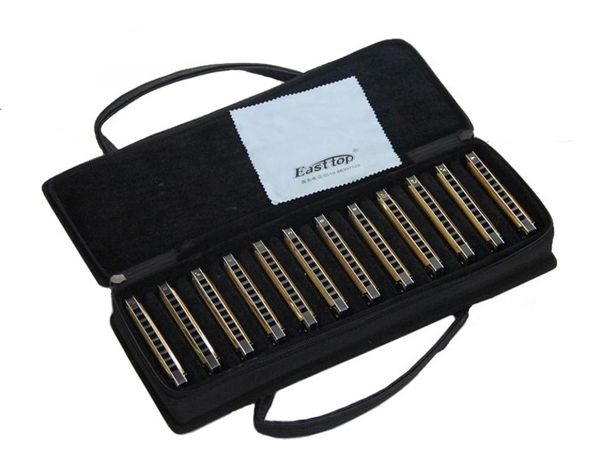 Easttop Blues Harmonica T008K Set of 12 Keys Plus Case
Easttop Blues Harmonicas
Set of 12 Keys Model: T008K
With A Zippered Case That Can Hold 12 Harps 
Ships Out Within One Business Day from Pennsylvania, USA
I've been very surprised by this hot new harp from China with Phosphor Bronze reeds. (I guess Fender was so impressed they have Easttop make harps with the Fender name on them called the Fender Blues DeVille!) The harp world is a buzz with discussion about these harps and how well they play. I concur. It plays very well and comes in a nice zippered pouch. I am offering a great deal on 12 of these in all keys with a case that can hold 12 harps. This is a great deal. The case itself usually sells for $35 and the harps for about $20 out of China.
Yes, some high quality harmonicas are actually now being made in China. It was bound to happen. Certainly there have been a lot of cheap poor quality harps coming out of there in the past, but these are definitely an exception. I tried Easttop harps a few years ago at NAMM, the National Association of Music Merchants trade show and I was amazed at the quality. I recently tried out this model and was very impressed --shocked, in fact. It played wonderfully right out of the box, had some real weight to it, and bended and even overblew easily. Wow. The comb is solid resin. I have some other models and chromatics in stock as well. If you have wanted to try this hot new brand out here is your opportunity. I think you will be pleasantly surprised as well.
Details:
Zippered case that can hold 12 harps
Size: 100*28*18mm (Standard 10 Hole Diatonic Size about 4" x 1")
Number of holes: 10 holes
Reed material: Phosphor Bronze
Base plate: Copper base plate
11 sealing screws, tightness even better, sound more full.
Stainless steel screws, corrosion-resistant, waterproof and strong, not easy to rust.
Phosphor bronze reeds, corrosion resistance
Thick copper base plate, harmonica net weight is about 83g, base plate thickness is 1.2mm.
Reviews