Easttop 16 Hole 64 Reed Chromatic Black and Gold ABS comb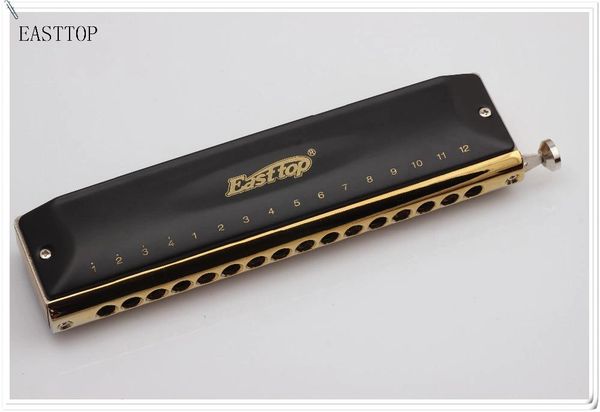 Easttop 16 Hole 64 Reed Chromatic Black and Gold ABS comb
Easttop ABS Comb T1664
Gold Plated Mouthpiece16 hole chromatic at an amazing price!
Compare this chromatic with those costing hundreds of dollars more! Flat Black Powder Coated Brass Coverplates, with Laser etching, Phosphor Bronze Reeds, Welded and Individually Hand tuned!

My supplier has gone over these and replaced the mouthpiece screws with superior thicker steel screws, so they have been upgraded a bit.
1.19 mm Chrome Plated Brass Reed Plates held in place with 13 Stainless Steel Screws

3 additional screws behind the mouthpiece

Precision Milled Ramps on holes 1 thru 4

Precision milled two piece mouthpiece assembly - only .002" slide clearance


Mouthpiece is Gold Plated with round holes - Cross Tuned




Sturdy Plastic Fitted Case
Reviews