Hohner Pro-harp MS Series in Bb SALE! $10 Off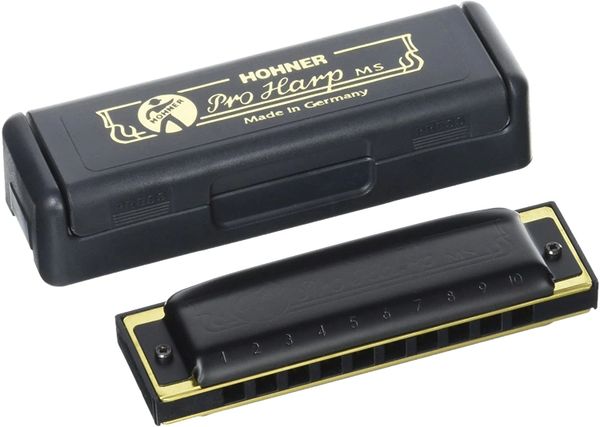 Hohner Pro-harp MS Series in Bb SALE! $10 Off
The Hohner 562 Pro Harp is crafted with matte-black Greblon-coated* covers that give this harmonica an unmistakable appearance. The 560 Pro's airtight, black body brings a distinctive, non-traditional look to the harmonica, while its sound and performance are unmistakably the traditional Hohner standard.

About Hohner MS-Series harmonicas:

The acronym 'MS' stands for Modular System, an integrated concept of Hohner's harmonica designs. MS-series harmonicas benefit from innovations that improve their playing characteristics and also significantly facilitate maintenance and handling. All Hohner MS-series harmonica parts (combs, reed plates, and covers) can be combined individually. Simple screw connections allow for easy assembly. This benefit offers harp players the ability to adjust their harmonicas to their individual requirements. For example, some players prefer the body of one harmonica and the cover plates of another, and so a "custom hybrid" is possible for the discerning harp player. Replacement reeds are available (see item: RP565 MS Replacement Reed Plates).

* Greblon is used as a non-stick coating for cookware.


FEATURES
10-hole diatonic
Standard (Richter) tuning
Reeds: 20
Reedplates: brass; 0.9 mm
Plastic comb
Length: 10 cm
Hohner harmonicas feature:
Improved reed profiles to increase reed life by over 200%
Precision die punches to ensure reed plates with unparalleled air tightness
Improved tuning accuracy (through investment in innovative new tools)
Extremely stable stainless steel covers that won't tarnish and are easy to clean
Dynamic range and highest volume of most any commercially made harmonica
Super-fast response at all volume levels
Easily adjustability for overblows
A unique Hohner sound that is a tone benchmark for blues, folk, and rock
Reviews