Hohner CX-12 CX12 GOLD Model 7545 Chromatic Harmonica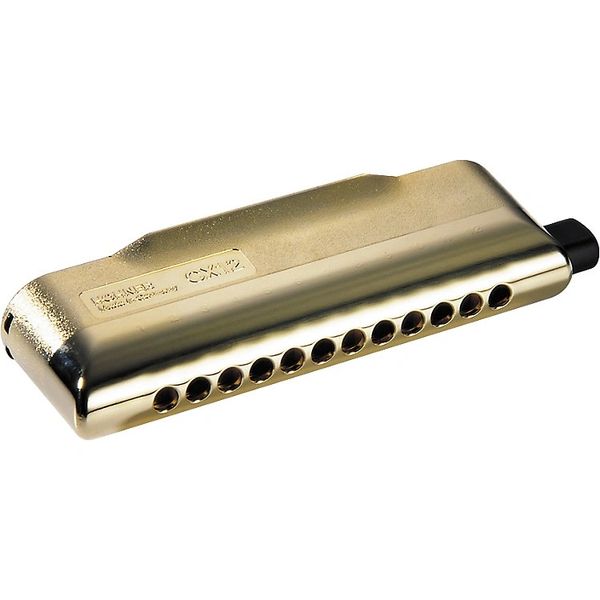 Hohner CX-12 CX12 GOLD Model 7545 Chromatic Harmonica
Hohner CX-12 GOLD Chromatic Harmonica

Model 7545 Gold
These amazing chromatics can be easily disassembled in seconds for cleaning and adjustment without using any tools! This is a revolutionary new design from Hohner and very air tight.  The round holes in the mouthpiece are great if you have a mustache, by the way!  The unique design features a fast action, low noise slide.  One-piece casing and mouthpiece design makes this harmonica extremely air tight.  It is the favorite of pros like Bill Barrett.
The CX-12 Gold version has thicker reedplates for more volume and a beautiful gold anodized cover.
CX-12 Gold
With its ultra-thick reed plates, this model has been optimized to meet the acoustic requirements of classical concert music. The thicker plates support the reed action and ensure high volume and fast response, especially in the lower register. Of course these characteristics also make this model suitable for any other style of music requiring a powerful acoustic sound.
Features
• As CX-12 but with gold anodised casing
• 1.2 mm brass reed plates
• Available in C-major
• Made in Germany
PLEASE NOTE: A HARMONICA CANNOT EVER BE RETURNED TO A DEALER ONCE IT HAS BEEN PLAYED! THIS IS FORBIDDEN BY HEALTH REGULATIONS AND ALSO MANUFACTURER'S POLICIES.  If there is a manufacturing defect or problem with a new harmonica it can be returned to the USA service center of the manufacturer for free warranty work. I will be happy help you with this process.
Reviews