Hohner CX-12 JAZZ Red to Gold Model 7546 Chromatic Harmonica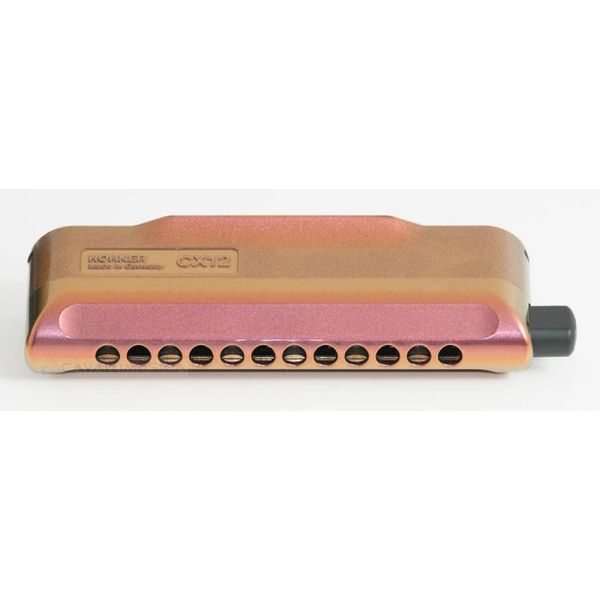 Hohner CX-12 JAZZ Red to Gold Model 7546 Chromatic Harmonica
Hohner CX-12 Jazz Red to Gold Chromatic Harmonica

Model 7546 (Only Comes in C)
Wow!! That's quite a harmonica. The sleek lines of the racy looking 'Jazz', constructed on the basis of the tried and tested CX12, make it a real attention grabber. In response to requests from a number of CX12 fans, we've made the new mouth-piece design narrower, which some players find suits their embouchure better. The new housing is fully compatible with all other CX12 models and is coated using a beautiful Ultraglide Red to Gold multilayer treatment.
These amazing chromatics can be easily disassembled in seconds for cleaning and adjustment without using any tools! This is a revolutionary new design from Hohner and very air tight. The round holes in the mouthpiece are great if you have a mustache, by the way! The unique design features a fast action, low noise slide. One-piece casing and mouthpiece design makes this harmonica extremely air tight. It is the favorite of pros like Bill Barrett.
Features
• As CX-12 but with narrower mouthpiece radius for optimal playing comfort
• 1.05 mm brass reed plates
• striking red-to-gold finish
• Available in C-major
• Made in Germany
PLEASE NOTE: A HARMONICA CANNOT EVER BE RETURNED TO A DEALER ONCE IT HAS BEEN PLAYED! THIS IS FORBIDDEN BY HEALTH REGULATIONS AND ALSO MANUFACTURER'S POLICIES. If there is a manufacturing defect or problem with a new harmonica it can be returned to the USA service center of the manufacturer for free warranty work. I will be happy help you with this process.
Reviews