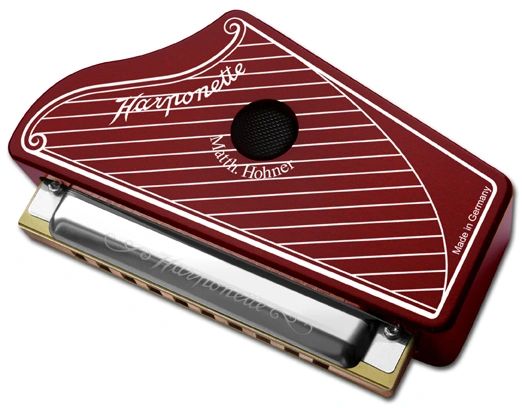 Hohner Harponette
SALE! Hohner Harponette in C
Made in Germany
Hammacher Schlemmer Has Been Selling These for $149.95!
These are a lot of fun and very unusual! What a great gift!
The Harponette was originally released in 1909. A hundred years later, Hohner's master instrument makers have crafted a particularly attractive replica model entirely "made in Germany." It features a CNC-milled Bordeaux red casing into which a a high quality Richter harmonica is inset, enabling the player to produce a uniquely warm and sonorous tone. The Harponette comes in a luxurious embossed case with a magnetic closure and makes a great addition to the Historic Collection.
Features:
• Doussié wood comb
• 0.9 mm brass reed plates
• 20 brass reeds
• Stainless steel covers with Harponette embossing
• CNC-milled solid spruce casing, attractively laquered, with authentic silver imprint
• Elegantly styled vintage cardboard case with practical magnetic closure
• Available in C-major
Reviews