Hohner Meisterklasse Chromatic 7565/56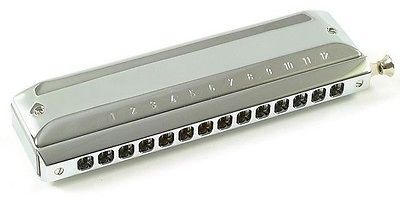 Hohner Meisterklasse Chromatic 7565/56
Hohner Meisterklasse Chromatic Harmonica 
An Excellent Professional Instrument
Here is your chance to obtain one of these incredible chromatics at an amazingly low price, absolutely brand new, sealed in Hohner's packaging and fresh from Hohner USA.  I got a special one-time deal from Hohner and so I'm offering this at a discounted price! You are purchasing from an authorized Hohner USA dealer. 
With a 3.5 Octave note range, the Meisterklasse was designed for professional players of classic harmonica music. It will master any score written for the violin. The Meisterklasse produces bright clear sounds with fabulous response from every register.
Its construction utilizes a narrow mouthpiece with rounded channel openings, a silent slide mechanism, and an aluminium comb.
Features
• Anodized aluminium comb
• Chrome plated brass covers and mouthpiece
• 56 Classic chromonica reeds
• 1.2 mm brass reed plates, nickel plated
• Replacement reed plates available
• The only HOHNER chromatic with a range of 31/2 octaves from g - c''''
• Exceptionally airtight
• Short slide action
• Hard shell case
• Available in C-major
• Made in Germany
Eezyreeder is an authorized Hohner dealer.
PLEASE NOTE: A HARMONICA CANNOT EVER BE RETURNED TO A DEALER ONCE IT HAS BEEN PLAYED! THIS IS FORBIDDEN BY HEALTH REGULATIONS AND ALSO MANUFACTURER'S POLICIES.  If there is a manufacturing defect or problem with a new harmonica it can be returned to the Hohner USA service center of the manufacturer for free warranty work. I will be happy help you with this process.
Reviews