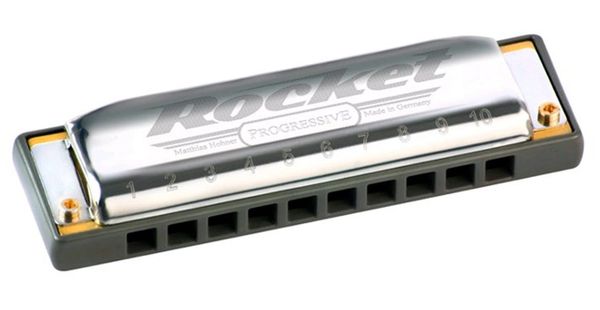 Hohner Rocket Harmonica
Hohner Rocket Harmonica
The List Price is $99!
This is the 21st century Hohner with inset reedplates, a plastic comb, and way open cover plates for maximum volume! Wow! This new harp really rocks!  This is as much an improvement on the Special 20 type design as the Crossover is of the Marine Band type design.  You've got to try one! 

Comfortable, Responsive and LOUD! The Rocket represents a new breakthrough in diatonic harmonica design. The ergonomically designed comb has rounded sides and edges for maximum comfort. Wide open cover plates and channel design enhance pressure to  ensure maximum loudness. The Rocket allows players to express a powerful, dynamic sound.
Features
• Wide open cover plates and channel design enhance pressure to ensure maximum loudness
• Ergonomically designed comb has rounded sides and edges for complete comfort
• Covers and reed plates fitted with Philips head screws permit easy access to facilitate maintenance
• Sturdy neoprene case allows moisture to evaporate while keeping dust out
• Available in 12 keys (C, Db, D, Eb, E, F, F#, G, Ab, A, Bb, B)
• Made in Germany
Testimonials about Hohner's New Rocket:
"It's very lively. It's very, very strong. Wow!"  Howard Levy
"This thing rocks! ...It plays similar to a custom Special 20...It's designed for comfort...The responsiveness and how airtight it is has been significantly improved.  It's kinda like a Marine Band and a Special 20 came together and had a baby --turbo charged!  This is a killer harmonica! ...You guys are gonna dig this! "  Ronnie Shellist
"If you've been looking for the Holy Grail of plastic comb harmonicas, well, get yourself a Rocket!" Harmonica Jake
See  Video Demos of the Rocket!

PLEASE NOTE: A HARMONICA CANNOT EVER BE RETURNED TO A DEALER ONCE IT HAS BEEN PLAYED! THIS IS FORBIDDEN BY HEALTH REGULATIONS AND ALSO MANUFACTURER'S POLICIES.  If there is a manufacturing defect or problem with a new harmonica it can be returned to the Hohner USA service center of the manufacturer for free warranty work. I will be happy help you with this process.  EEZYREEDER IS AN AUTHORIZED HOHNER DEALER.
Reviews