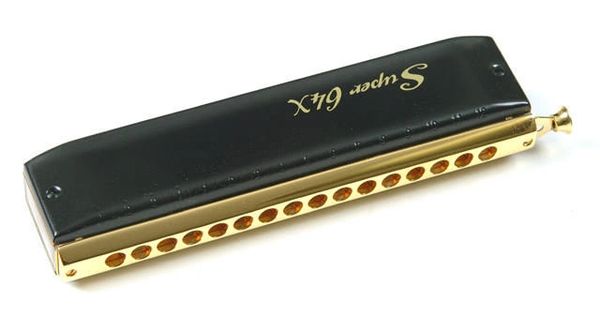 Hohner Super 64X
Hohner Super 64 X Professional Chromatic
The Head of Its Class!
The king of all 16-hole chromatics. You've heard and seen performers like Stevie Wonder play this extensively on stage and in the studio. The head of its class, this one has it all; smooth, effortless response, powerful volume, a sweeter tone than you can imagine, all housed in an incredibly good looking, sleek design. The 64X is for players of good taste who are playing for keeps. Are you on that level? Gold mouthpiece, sleek black covers with gold lettering. Double thick reed plates. Clear body.
Features
• Milled plexiglass comb
• Matt black laquered stainless steel covers
• 64 Classic chromonica reeds
• Full 4 octave range
• 1.05 mm brass reed plates, doubled in bottom 2 octaves
• Replacement reed plates available
• Gold plated mouthpiece with round holes
• Available in C-major
• Made in Germany
Eezyreeder is an authorized Hohner dealer and so this harmonica is under the hohner warranty.
PLEASE NOTE: A HARMONICA CANNOT EVER BE RETURNED TO A DEALER ONCE IT HAS BEEN PLAYED! THIS IS FORBIDDEN BY HEALTH REGULATIONS AND ALSO MANUFACTURER'S POLICIES. If there is a manufacturing defect or problem with a new harmonica it can be returned to the USA service center of the manufacturer for free warranty work. I will be happy help you with this process.

Reviews