Lee Oskar 1910 Major Diatonic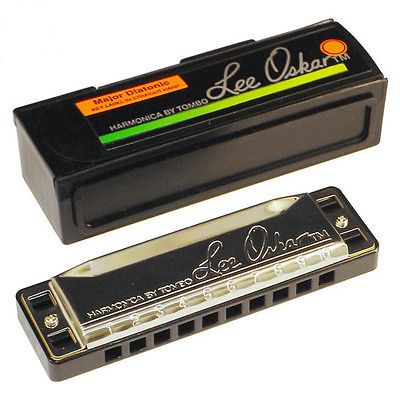 Lee Oskar 1910 Major Diatonic
Lee Oskar Major Diatonic Harmonica

Model 1910
Pick your key from the drop-down in-stock menu above

THIS IS THE TRADITIONAL BLUES TUNING.
The Major Diatonic harmonica is the most commonly used tuning for playing Blues, Rock, Country Folk & Jazz. 
Major Diatonic harps are produced by several manufacturers using various names such as Blues Harp, Marine Band, Golden Melody, Big River, Special 20, Pro Harp, Folk Master, Star Performer, etc. Although the cover plates are stamped with a variety of different names for marketing purposes, all of these harmonicas have the exact same notation layout as the Lee Oskar Major Diatonic.
The most important difference is in the quality of materials, construction, design and sound. Lee Oskars are one of the best harmonicas in the world.
Check out my helpful harmonica guides on ebay!  Click here!
EEZYREEDER IS AN AUTHORIZED LEE OSKAR DEALER. NO AUTHORIZED DEALER IS ALLOWED TO CHARGE LESS THAN $37.99 FOR A LEE OSKAR HARMONICA.
ALSO PLEASE NOTE REGARDING RETURNS: LEE OSKAR HAS A VERY STRICT POLICY REGARDING RETURNS. THERE ARE NO RETURNS ALLOWED AND ALL SALES ARE FINAL. IF THERE IS AN ISSUE WITH A NEW HARMONICA IT MUST BE RETURNED TO LEE OSKAR USA FOR WARRANTY SERVICE, NOT TO A DEALER. LEE OSKAR STANDS BEHIND THE QUALITY OF THEIR PRODUCT.

Click Here to see the Lee Oskar warranty page.
PLEASE NOTE: A HARMONICA CANNOT EVER BE RETURNED TO A DEALER ONCE IT HAS BEEN PLAYED! THIS IS FORBIDDEN BY HEALTH REGULATIONS AND ALSO MANUFACTURER'S POLICIES.  If there is a manufacturing defect or problem with a new harmonica it can be returned to the USA service center of the manufacturer for free warranty work. I will be happy help you with this process.
Reviews