Lee Oskar Melody Maker Harmonica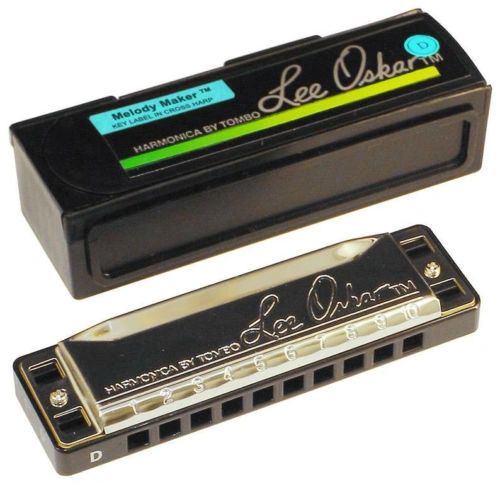 Lee Oskar Melody Maker Harmonica
Lee Oskar Melody Maker Harmonica
Plays major melodies in Second Position (Cross Harp), which makes major melodies easy for blues players!
The Melody Maker is incredible for playing melodies in Cross Harp! Melody Makers are the best harps available for playing STANDARD SINGLE-NOTE MELODIES. They're great for playing COUNTRY, R&B, POP, WORLD BEAT, AFRICAN and REGGAE. This tuning makes it easier to play many songs...that can be difficult, or impossible, to play on a standard Major Diatonic...IN CROSS HARP! All of the notes that were missing on the Major Diatonic are right there on the Melody Maker! These harmonicas provide a complete major scale, in cross harp, for playing exact melody without bending. Yet, the draw notes can still be bent for that bluesy feeling!
Melody Makers are designed to be played in cross harp (draw), not straight harp (blow). In cross harp, melodies can be played with an expressive, fluid style that is extremely difficult to achieve in straight harp.
Lee Oskars, like their namesake, are one of the best in the world.
EEZYREEDER IS AN AUTHORIZED LEE OSKAR DEALER. NO AUTHORIZED DEALER IS ALLOWED TO CHARGE LESS THAN $37.99 FOR A LEE OSKAR HARMONICA. ALSO PLEASE NOTE REGARDING RETURNS:

LEE OSKAR HAS A VERY STRICT POLICY REGARDING RETURNS. THERE ARE NO RETURNS ALLOWED AND ALL SALES ARE FINAL. IF THERE IS AN ISSUE WITH A NEW HARMONICA IT MUST BE RETURNED TO LEE OSKAR USA FOR WARRANTY SERVICE, NOT TO A DEALER. LEE OSKAR STANDS BEHIND THE QUALITY OF THEIR PRODUCT.A HARMONICA CANNOT EVER BE RETURNED TO A DEALER ONCE IT HAS BEEN PLAYED! THIS IS FORBIDDEN BY HEALTH REGULATIONS AND ALSO MANUFACTURER'S POLICIES.  If there is a manufacturing defect or problem with a new harmonica it can be returned to the USA service center of the manufacturer for free warranty work. I will be happy help you with this process.
Reviews