Lucky 13 Harmonica Designed by Brandon Power - Extended Range!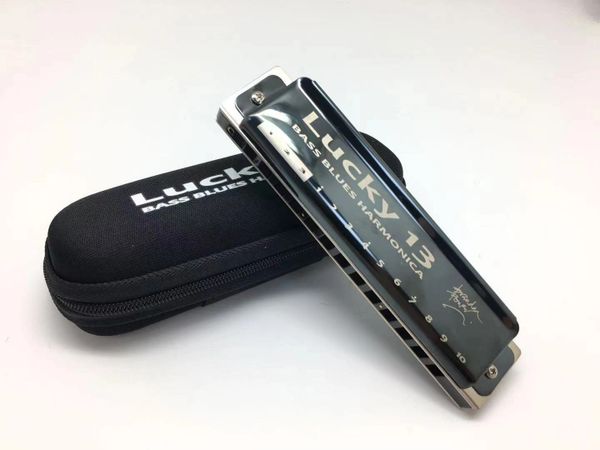 Lucky 13 Harmonica Designed by Brandon Power - Extended Range!
New Design! 13 Holes! Extra Bass Chord!
Ships from the USA - Philadelphia Area
The Lucky 13 was designed by BRENDAN POWER i
n association with EASTTOP. This is the w
orld's first 13-hole harmonica!  It has the same 7.5mm hole spacing as a normal 10-hole 
harp, which means it's easy to adapt to. (If you know about the Hohner Steve Baker Special, this harmonica is similar in the Richter version. It has the chord on the bottom end there twice, one in the lower range, then one in the regular range.) The Lucky 13 comes with a nice zippered case.
Comfortable smooth coverplates, bottom 

cover raised at the bass end so the draw reeds never rattle

Solid comb, flat-sanded.

Durable phosphor-bronze reeds 

Thick chromed reedplates, secured with 11 screws 

for uniform airtightness 

Clear visual numbering on top coverplate 

Key indicators on 

front and ends of the comb, for those who like to stack harps vertically 

Unique 

LOOK-DOTS: handy little position markers on the front of the comb, which ensure 

you'll never lose your place on this bigger harp.
Exactly 4 octave range in standard Richter tuning, with a fat lower octave added on to 
the normal 10-hole range - great for chords and octaves! Clear visual numbering on 
the top cover relates to the 10-hole diatonic, for familiarity. Standard and Low harps 
combined = Two Harps in One!
Solo Tuning is used on chromatic harmonicas, so many players will be familiar with it. 
An excellent tuning for playing pop melodies, it's also great for playing 3rd Position 
Blues and Celtic music. It's half-valved, to give strong, expressive blow notes as well 
as bendable draw notes on the odd-numbered holes. 
Reviews