Qimei 12 Hole Chromatic Harmonica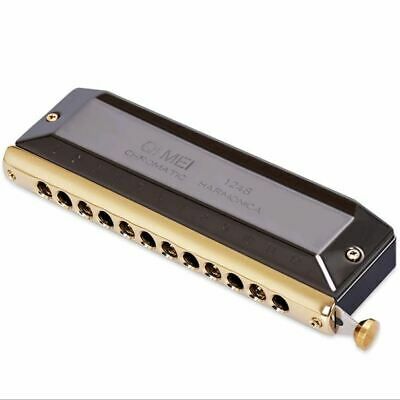 Qimei 12 Hole Chromatic Harmonica
They are surprisingly good and are very modestly priced!
Yes, high quality harmonicas are now being made in China. I have tried Qimei harmonicas out and found these models to play well. They have been making harmonicas for almost 40 years. I got a great deal on these and I so can give you a great deal!
This is from their self-description: "Qimei brand serial musical instruments are of accurate tones and elegant timbre, and are the ideal popular musical instruments for students. Products are sold well not only in domestic market in China but also in foreign countries, such as USA、Japan、 Germany、UK、Indonesia、France、Switzerland、Malaysia、Singapore、Australia、Canada etc. Our products are popular by many primary and high school students and professional players at home and abroad."
Details:
Key: C 
Body Material: Resin
Number of Holes: 12
Cover Material: Chrome-plated Copper Board
Number of Keys: None
Reed Material: Phosphor Bronze
Brand Name: QIMEI
Type: Chromatic Harmonica
Reviews