Seydel 1847 Session Steel 2020 SUMMER EDITION 6 Harmonica Set Luminous Yellow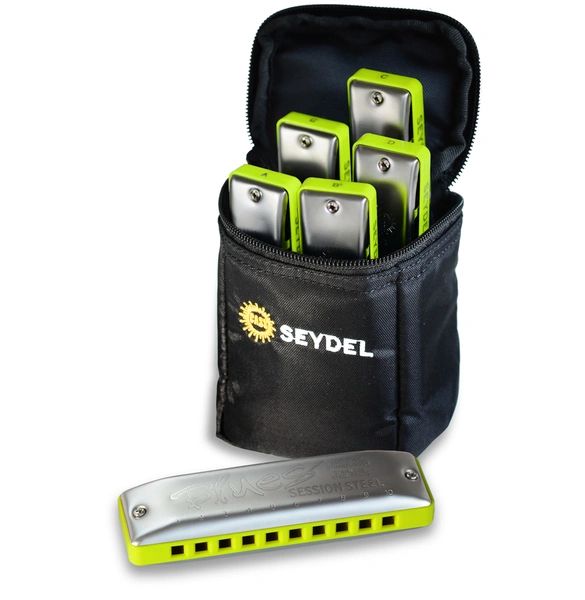 Seydel 1847 Session Steel 2020 SUMMER EDITION 6 Harmonica Set Luminous Yellow
Seydel Session STEEL SUMMER 2020 EDITION 
6 Harmonica Set  - Luminous Yellow Comb
Set of six SESSION STEEL Summer Edition instruments in the most important keys G, A, Bb, C, D and F. Six Blues Harmonicas with corrosion-free stainless steel reeds, ergonomic matted covers and a blue mint plastic comb. Together with the versatile gigbag (beltbag) you are ready for any jam-session.
Available only for a short time.
The SESSION STEEL Summer Edition presented with a bold look and superior technical reliability, excellent playability and a fantastic sound. 
Matte finish ergonomic coverplates, completely rounded at the mouthpiece

ABS comb with recessed German Silver reedplates

rivets and screws made of stainless steel

lips and beard-friendly design

minimal air consumption achieved by fine-cut reedplates, optimized flatness and extremely

small tolerances between reed and reedplate

stainless steel reeds provide the best clear and full sound and response of the 1847 models

an up to 5 times longer playing life compared to models with brass reeds

with convenient SEYDEL gigbag for six instruments
SEYDEL SESSION STEEL - sounds stronger - lives longer
The late great James Cotton played Seydels! Blues harp legend Charlie Musselwhite says of Seydel Harmonicas: "I can't tell you how much I really really really like these harps!" Mark Hummel and Jimi Lee are Seydel players, too. Seydel is the oldest ongoing harmonica factory, having started in 1847, and it was Hohner's biggest competitor until after World War II, when it ended up on the wrong side of the Iron Curtain. It survived that period and is now coming into it's own again, but, unlike Hohner, this is a small factory still making harmonicas the old fashioned way, on old machinery, and by hand. They take great pride in their work. I know, because I visited the factory and met the craftsmen there. So, why not try one? 
This is the guaranteed lowest price in the world on this model Seydel harmonica. Eezyreeder/Eezydeelz is an authorized Seydel Sales Partner. 
A harmonica cannot be returned after being played. It can be returned for warranty service to Seydel USA if there is a problem.
Reviews