Seydel 20 Harmonica Hard Case With Shoulder Strap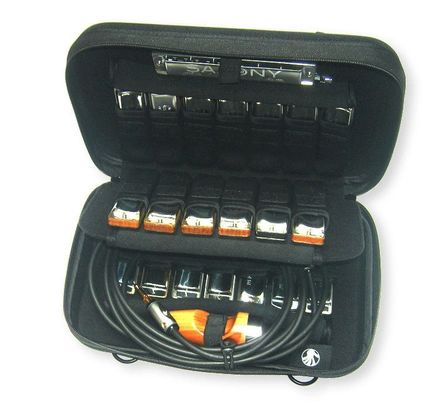 Seydel 20 Harmonica Hard Case With Shoulder Strap
Seydel 20 Harmonica Hard Case With Shoulder Strap
"This is a great case! Not only does it hold 20 diatonic harmonicas, but you can also hold 2 more chromatics. I've also found that with some additional Velcro strap cable ties I can fit a couple of extra chromatics. I love this case and use it myself" --eezyreeder
(Of course the items within the case are not included and are only pictured to demonstrate what the case can hold!)
Case made of two hard covers, outside clad with tough synthetic weave.

On the inside covered with smooth cloth.

Robust zipper with two SEYDEL-Sun pulls.

Flexible Neoprene-like inside pockets holding for up to 20 Blues-Harmonicas stored in three racks - really protected and shockproof.

Each row has a flap equipped with Velcro to close the pockets.

The middle row holding for 6 harmonicas can be removed and then serves as an individual pouch or even a beltbag.

Two additional Velcro holders for two larger harmonicas (e.g. Chromatic) or longish microphones (e.g. SHURE 545 SD).

If you fill the upper two racks with 13 instruments (7+6) there is enough space left for cable, microphone and tools in the lower part (also fits for bullet-like mics like the Green Bullet or Astic).

12 instruments of all keys can be sorted like an octave of a piano keyboard!

Two eyes are riveted onto the outside - ready for the shoulder strap provided.

Small outer dimensions (30 x 19 x 9 cm, 11.8 x 7.5 x 3.5 in), rounded edges and light-weight (550g, 17 oz).
With this harmonica case you can carry all your harps and a microphone in a very handy and convenient way.
Reviews