Seydel Big Six Set of 6 plus Belt Bag and Multimedia USB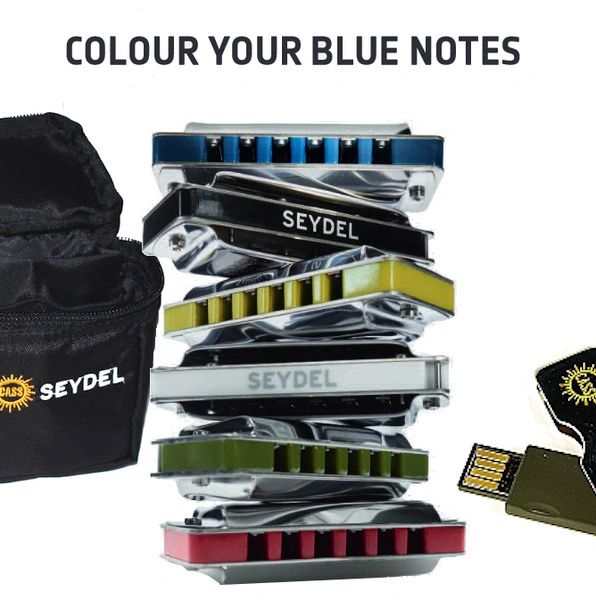 Seydel Big Six Set of 6 plus Belt Bag and Multimedia USB
BIG SIX SET
Six instruments in the most commonly used keys, G, A, Bb, C, D, F, plus a belt bag and multimedia USB
With the BIG SIX SET you are able to express yourself even before you play your first note — by configuring your personal set, visually. The colors of the combs and the desired keys can be assigned freely.
Six groovy colors are available: black, lava, sky, oliv, yello and white. You choose your set, whether it is a single color or a variety of colors, or perhaps a color-to-key coded set. You design a cool eye- catcher — you color your notes.
We put an interesting multimedia tutorial onto the USB-stick provided (for Win/Linux/MacOs), with six blues pieces in six keys for playing along as well as detailed information of how to play in 2nd position, how to produce bent notes, how to play the blues scale, and other material for filling many hours with learning more about your instruments.
BIG SIX SET – color your blue notes
• Six BIG SIX harmonicas with twelve Stainless Steel reeds each in the keys G, A, Bb, C, D, F
• Comb made of solid plastic-polymer in six optional colours: black, lava, sky, oliv, yello and white.
• Extra strong coverplates
• Multimedia tutorial with six Blues titles in six keys and more detailed information
• Provided lanyard and practical beltbag
Reviews