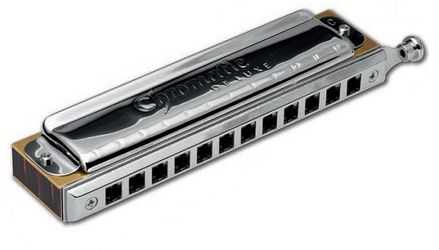 Seydel Chromatic Deluxe
SEYDEL CHROMATIC DELUXE
Key and Tuning of Choices See Menu
Acrylic Comb, Bolted Assembly
THIS IS THE BEST CHROMATIC DEAL OUT THERE! THESE ARE EXCELLENT HARMONICAS AND MORE AIR TIGHT THAN THE VERY SIMILAR HOHNER 270. 12 HOLES, 48 NOTES. GERMAN MADE - HAND TUNED - COMES WITH SEYDEL'S WARRANTY & A NICE CASE! WE'VE HAD GREAT POSITIVE RESPONSES TO THIS CHROMATIC!
This is a superior quality chromatic harmonica from the world's oldest harmonica company! It features an acrylic comb, is very air tight, and has a great tone. We have been delighted with the responses we've been getting from folks who have bought these --they really love the way they play!
The standard chromatic tuning is Solo Tuning. Richter Tuned (like a diatonic Blues harp) and Irish Tuned (the note goes down with the button instead of up) are available in certain keys and can be chosen on the menu above.  (If you want something really special like Bebop or Diminished tuning, Seydel also offers CUSTOM TUNED CHROMATICS for $199.95. That's right! Get one made up any way you like by special order! You can special order Ab, Db, F# or whatever you like for $199.95. Contact me for special orders.)
This harmonica has unique features:
Reedplates affixed with screws enable easy access to the inlay valves and reeds.

Big square holed mouthpiece for optimized airflow.

Holes with radius-formed edges for lip -and tongue- friendly playing.

Full spare part support up to single reeds for repairs.
PLEASE NOTE: A HARMONICA CANNOT EVER BE RETURNED TO A DEALER ONCE IT HAS BEEN PLAYED! THIS IS FORBIDDEN BY HEALTH REGULATIONS AND ALSO MANUFACTURER'S POLICIES. If there is a manufacturing defect or problem with a new harmonica it can be returned to the USA service center of the manufacturer for free warranty work. I will be happy help you with this process.
Reviews