Seydel Club Steel Reed Octave Harmonica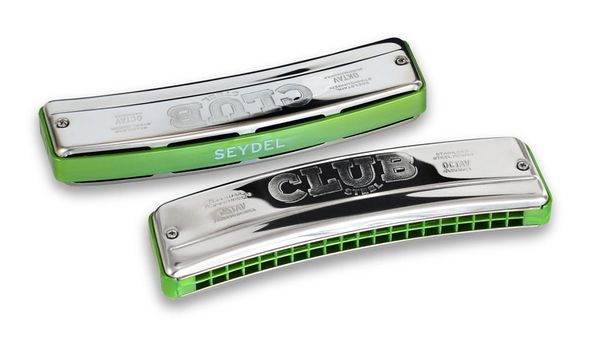 Seydel Club Steel Reed Octave Harmonica
Seydel Club Steel
The First Stainless Steel Reed Octave Harmonica
High-grade Octave harmonica in traditionally ergonomically curved shape and a specially rich octave sound due to 40 stainless steel reeds. The CLUB STEEL is especially made for playing melodies in Folk music styles.
If you play a single note on this model two reeds that are tuned in octave sound together at once. That is why the CLUB STEEL sounds very full and warm and powerful at the same moment. The CLUB STEEL is made with high-quality materials and is therefore 100% corrosion free!
The CLUB STEEL is the ideal companion for your every day use or any hiking tour. Long durability and high tuning stability guaranteed. The CLUB STEEL comes with a practical and well protecting beltbag (available in the keys of HG, Bb, C and D).
rounded coverplates made of stainless steel

curved double row comb made of durable ABS-plastic, very "lipp-friendly"

reedplates made of German Silver (screwed on)

reeds and rivets as well as all used screws made of stainless steel

measures: 14,5 x 4,4 x 2,3 cm


weight: 115g



Reviews