Seydel Fanfare S - The First Steel Reed Tremolo!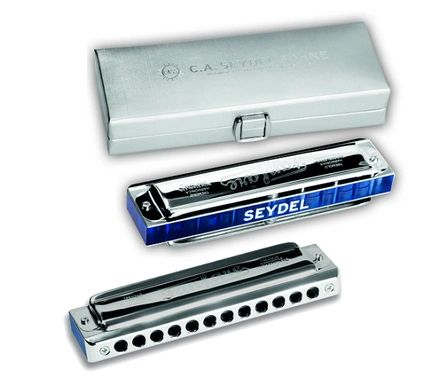 Seydel Fanfare S - The First Steel Reed Tremolo!
The Fanfare-S – the first Tremolo harmonica with stainless steel reeds offers an unprecedented musical presence and assertiveness whilst minimizing air-loss.
Precision made acrylic comb – very airtight and durable.
Stainless steel covers – no possibility of corrosion.
Mouthpiece with round holes made of stainless steel - for lip-friendly playing.
48 stainless steel reeds tuned according to the Solo-tuning with three full octaves – loud and overtone-rich sound with an unbeatable easy response.
built-in valves are optimized for the Tremolo sound – minimized air-loss at the same time as loud tone and a faster development of the desired beating.
The Fanfare-S – ambitious players of many traditional musical styles (Shanty, Alpenländische Volksmusik, Irish Folk, Cajun, etc.) will not want to miss out on this fantastic instrument. Many of the outstanding features of the Fanfare-S derive from Seydel's top chromatic model, the SAXONY !
Reviews