Seydel Favorite Harmonica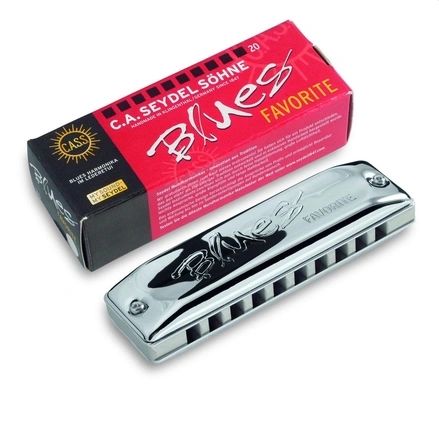 Seydel Favorite Harmonica
The Seydel Blues Favorite Harmonica
Your Key of Choice - Use the Drop Down Menu to pick your key or keys.  This is an excellent professional model that I think is better than the Hohner Meisterklasse!  Super Low and High keys are also available! Each harmonica comes in its own genuine leather case.
What a beauty!  If you like the Hohner Meisterklasse you will love these!  Seydel is the ONLY harmonica company in the world still making all their harps --and all their parts-- in Germany the old fashioned way --and each is hand tuned.  These are extremely high quality instruments.
Jet cut aluminium comb




German silver reedplates




Sleek ergonomic cover plates produce a rounded sound




Genuine leather sleeve case
James Cotton plays and endorses Seydel harps! Blues harp legend and Seydel endorser Charlie Musselwhite says: "Man oh man I have to tell you  - these Seydel harps are fabulous.  I really love them."  Mark Hummel and a growing numbers of other professionals play and endorse Seydels.  These are some of the best harmonicas made in the world.
Seydel is the oldest ongoing harmonica factory, having started in 1847, and it was Hohner's biggest competitor until after World War II, when it ended up on the wrong side of the Iron curtain.  It survived that period and is now coming into it's own again, but, unlike Hohner, this is a small factory still making harmonicas the old fashioned way, on old machinery, and by hand.  They take great pride in their work.  I know, because I visited the factory and met the craftsmen there.  Their web site is www.seydel1847.com.
Reviews