Seydel Lightning Harmonica Polished Stainless Steel Reeds, Covers, & Comb!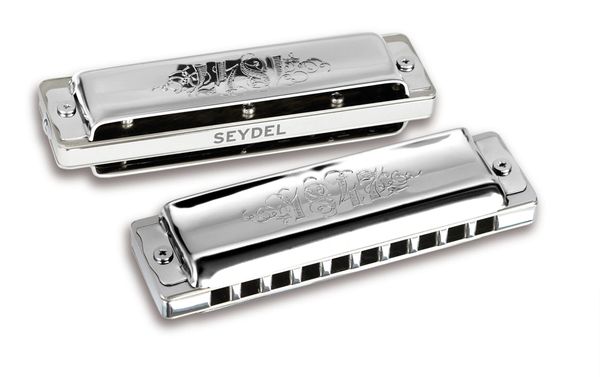 Seydel Lightning Harmonica Polished Stainless Steel Reeds, Covers, & Comb!
Seydel Lightning Harmonica

Polished Stainless Steel Reeds, Covers, & Comb!
The 1847 LIGHTNING with polished stainless steel reeds - a dream for all harmonica-lovers
The 1847 LIGHTNING is made without compromise: the best components available and SEYDEL's masterly craftsmanship were used to build this harmonica lover's dream.
What makes the 1847 LIGHTNING so special?
For the first time we created polished stainless steel reeds for the best responsiveness, a beautifully ballanced fat tone and a very long lifetime. The 1847 LIGHTNING is available in the seven most commonly used keys: G, A, Bb, C, D, E, and F. (It comes as well in a set of seven instruments. Contact me about a set if you re interested.)
The 1847 LIGHTNING comes with a polished solid comb made of stainless steel that gives the instrument not only extra weight (155 g / 5,5 Oz) but as well adds a very resonant component to the sound.
The shiny stainless steel coverplates with the special 1847 3D-imprint and side vents are completely rounded at the front and opened wide at the back for the best sound projection towards the audience.
All parts (even the rivets and screws) are made of anti-corrosive materials. The 1847 LIGHTNING is designed to be a lifetime companion and ready for any musical challenge.
The 1847 LIGHTNING - sound refined to perfection
EEZYREEDER IS ONE OF THE LARGEST SEYDEL DEALERS IN THE USA. THIS IS THE LOWEST PRICE SEYDEL ALLOWS US TO SELL THESE FOR! 

Blues harp legend Charlie Musselwhite says of Seydel Harmonicas: "I can't tell you how much I really really really like these harps!"  

Mark Hummel is a Seydel player and official Seydel endorser, and Howard Levy also often uses Seydel harmonicas.

Seydel is the oldest ongoing harmonica factory, having started in 1847, and it was Hohner's biggest competitor until after World War II, when it ended up on the wrong side of the Iron Curtain.  It survived that period and is now coming into it's own again, but, unlike Hohner, this is a small factory still making harmonicas the old fashioned way, on old machinery, and by hand.  They take great pride in their work.  I know, because I visited the factory and met the craftsmen there.  Their web site is www.seydel1847.com.

So, why not try one?  This is the guaranteed lowest price in the world on this model Seydel harmonica.  Eezyreeder is an authorized Seydel Sales Partner.
Reviews