Seydel Session 7 Harmonica Set & 14 Harp Case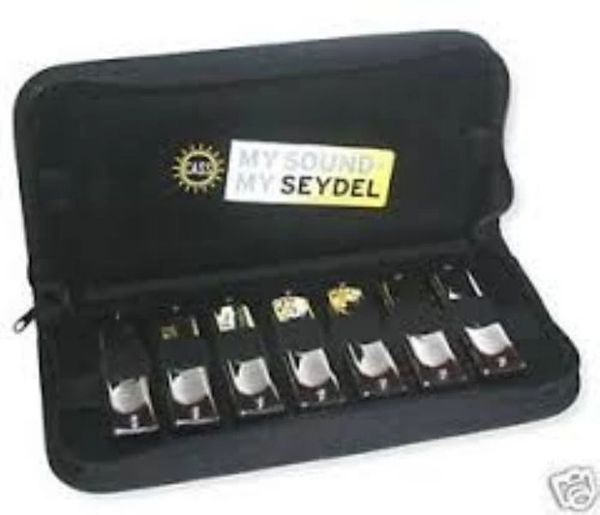 Seydel Session 7 Harmonica Set & 14 Harp Case
Seydel Blues Session 7 Harp Set with a 14 Harmonica Case! 


Save by buying a set! FREE SHIPPING! The following keys are included by

default: A Bb C D F G and Low D!

 

Unless I hear from you I will send the default set, but you can create your own combination for no additional charge by substituting any harps you want in standard tunings -- and you can include, in your choice of seven, Low Tuned (LD, LF  LE, LEb, or LF#) or High Tuned (HG or HA) harps if you like!

 *Type key choices in the box above (below list of keys) to make your choices known if other than default.
The Seydel Session:
has an extremely airtight smooth-edged plastic comb




brass reedplates




ergonomic cover sets producing a rounded sound



If you like Hohner Special 20s or Lee Oskars, you will love these!  These have a sleeker design and a great sound --and if you do overblows, they are easier on these Seydel Sessions than on those!  These are excellent harmonicas.
So, why not try one? This is the guaranteed lowest price in the world on this model Seydel harmonica. Eezyreeder is an authorized Seydel Sales Partner.
PLEASE NOTE: A HARMONICA CANNOT EVER BE RETURNED TO A DEALER ONCE IT HAS BEEN PLAYED! THIS IS FORBIDDEN BY HEALTH REGULATIONS AND ALSO MANUFACTURER'S POLICIES. If there is a manufacturing defect or problem with a new harmonica it can be returned to the USA service center of the manufacturer for free warranty work. I will be happy help you with this process.
Reviews