Seydel Silver or Classic 12 Harmonica Set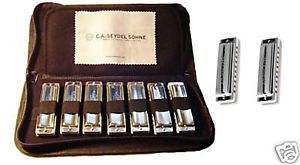 Seydel Silver or Classic 12 Harmonica Set
Blues Harmonica set consisting of our top-level instruments - models 1847 CLASSIC and/or SILVER. PLEASE CHOOSE YOUR KEYS AND COMBS (CLASSIC = WOOD, SILVER = POLY) IN THE COMMENTS BOX. Please choose twelve instruments from the following keys available - it is allowed to choose two instruments of the same key and model at once.
Keys available for both Classic and Silver: LC, LDb, LD, LEb, LE, LF, LF#, G, Ab, A, Bb, B, C, Db, D, Eb, E and F
Super Low Available for Classic: LA, LB, LBb, LLF, LLF#, LLE
The reliable padded zipper case holds 14 harmonicas!
Reviews