Suzuki Manji Harmonica - Special Tunings! Minors, Country, etc.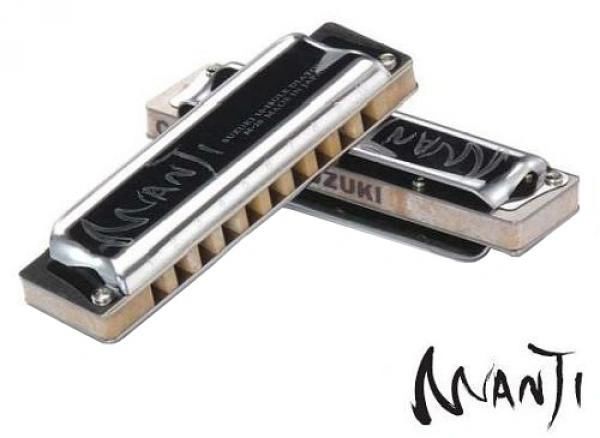 Suzuki Manji Harmonica - Special Tunings! Minors, Country, etc.
Suzuki Manji M-20
Pick your key and tuning!

(Regular and low tuned are in other listings)
Advanced technology and functional beauty are combined in this stunning 10 hole diatonic harmonica, the all-new Suzuki MANJI Harmonica. This revolutionary new diatonic harmonica is named after Mr. Manji Suzuki, the company's founder — now in his mid 80s, but still very much in charge. He started with a single hand-built model 70 years ago, and has built Suzuki up into one of the world's premier harmonica manufacturers. 

The comb is made of a specially designed composite material that includes wood fibers and has the qualities of wood without the problems of wood, like swelling.  The reedcovers, which are open on the sides and wide open in back for volume, are attached with a bolt in the front to make sure it is air tight.  Of course the reeds are laser tuned!  This is truly a major advance in design.  
Harmonicas are Mr. Suzuki's passion and his life's work. The fact he is putting his own name on the MANJI Harmonica is because those 70 years of dedication to perfection are condensed in this one impressive instrument. He is convinced that it will come to be regarded as one of the best harmonicas of the 21st century.
EEZYREEDER IS A FULLY AUTHORIZED SUZUKI USA DEALER. Buyers Beware! Only authorized USA dealers can offer you the Suzuki Warranty. If you buy from a foreign dealer Suzuki USA will not provide warranty service! 
PLEASE NOTE: A HARMONICA CANNOT EVER BE RETURNED TO A DEALER ONCE IT HAS BEEN PLAYED! THIS IS FORBIDDEN BY HEALTH REGULATIONS AND ALSO MANUFACTURER'S POLICIES.  If there is a manufacturing defect or problem with a new harmonica it can be returned to the USA service center of the manufacturer for free warranty work. I will be happy help you with this process.
Reviews